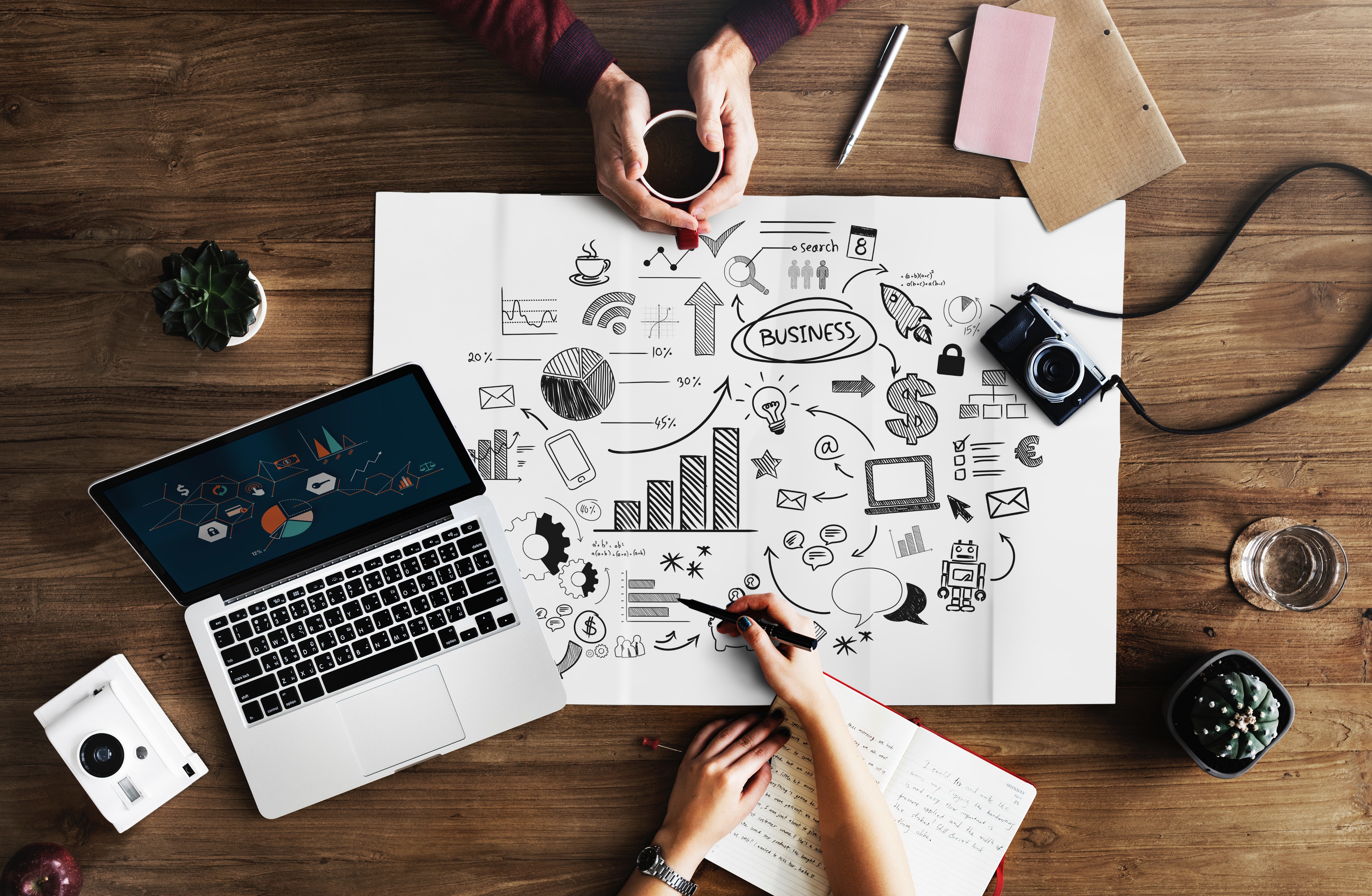 All the must-have business apps for entrepreneurs and business owners.
19 August 2019 by Tanya Milazzi
When starting up your own business your job is never complete, and your role is constantly changing. The need to continually increase your productivity and organisation is at an all-time high, but luckily for you, we might just have the answer and hopefully make your life a little easier. These top applications will have your day to day business running smoother and more efficiently than ever.
Ever thought of using business apps to help with your day-to-day tasks? With so many to choose from we have put together a few of our top picks for you – an essential toolkit for all entrepreneurs.
All these apps are easily accessible on any compatible device, which means you will be able to take your office with you, where ever you go. Many of the business apps to all the hard work for you, collecting data, organising files and most importantly remind you of important events/deadlines to keep you and your business on track.
Whether it be finance, accounting, communication, time management, organisation or recreational our toolkit covers it all.
FINANCE AND ACCOUNTING
Not everyone is a finance expert, but when you are starting your own business, it is a skill and task you need to learn. These apps can help you with all your business's financial tasks, including payroll, taxes, and give you a better picture of your company's financial stability.
Quickbooks
Geared mainly toward small and medium-sized businesses this app will help your business accept payments, manage and pay bills, and payroll functions. Quickbooks connects to thousands of accounts, including your bank account, credit cards, PayPal and Square. It also uploads data from these sources seamlessly and helps simplify your business taxes, as it tracks expenses and lets you upload photos of receipts from your phone.
Xero
With over 1.8 million subscribers Xero is a Canstar approved Accounting software with all the time-saving tools you need to grow your business. Secure and reliable with experts online to support you 24/7. Xero offers a cloud-based accounting software platform for small and medium-sized businesses. It will help you track payments, payroll, invoices, quotes, tax deductions, inventory and much more.
Square
This payment app is a good fit for small businesses, especially those on the go such as food trucks and pop-up shops. Square users receive a small, portable card reader that attaches to a phone or another mobile device to take fast, convenient payments.
COMMUNICATION
Communicating effectively is critical for the daily operations of your business. Having good and clear communication between those in your team and outside can improve productivity within your business. Here are some good communication apps that will easily allow you to stay in contact where ever you are.
Slack
Slack is an instant messaging platform where you can organize your team's conversations into separate private or public channels and direct messages. The app also makes it easy to drag, drop and share images, PDFs and other files instantly to whoever needs them within your team. It automatically indexes and archives any message, notification or file, and the best thing is there is no limit to how many users your business can add.
Skype
Many other apps have tried to compete with Skype yet the app remains the most effective and popular, with more than 10 million users. You can use Skype to video or voice call anyone in the world and even get up to 25 people together on a call; transmit video, photos and files of any size; share your computer screen and send text or voice messages.
TIME MANAGEMENT
Time is your most valuable asset, unfortunately for some, there is never enough hours in the day. These time-management apps will help you organise your schedule and stay focused on the most important tasks at hand. They will allow you to schedule your time accordingly and keep you reminded of upcoming deadlines and events.
My Minutes
If you find it hard to stay focused on your most important tasks or find yourself wasting too much time on Facebook or easily distracted by Instagram, then you may need My Minutes. The app helps you stay on task and on schedule by setting goals, such as "Spend only one hour replying to emails" or "research for 30 minutes." Unfortunately, this app is available for iPhones only.
Calendly
Calendly is a simple and easy-to-use scheduling software, with the aim to save time, accelerate sales, and improve service quality. Calendly can connect with up to six of your calendars to automatically check availability and help you plan out your days, weeks and months. It also notifies you when meetings have been confirmed and will alert you with plenty of time to get to your next appointment. It is a personal assistant in an app.
ORGANISATION
Running a business takes up a lot of your time so the need to stay organised and ahead of the game is crucial to productivity. Stay on top of all of your errands and work tasks with these top organization apps. They will help you create and deliver tasks on time easily.
Evernote
Evernote is the app for keeping all your notes and documents organized. You can store and share your personal and business to-do lists, reminders, drafts and notes across mobile and desktop devices. Available on Windows, Mac, iOS and Android devices.
One Drive
One place for everything in your business life. Easily store and share photos, videos, documents, and more - anywhere, on any device, free. OneDrive is a file hosting service and synchronization service operated by Microsoft as part of its web version of Office. An essential for organised and unorganised people, keep everything you need with you at all times, accessible on your phone, tablet or desktop.
Monday
Monday is a team/project management application that keeps all the information and documents for your business categorised in projects and allows you to see who is working on it and how it is going. Keep all your conversations, files, briefs, checklists, deadlines and spreadsheets in one easy to use format. Inviting your team to join the platform is easy too and then they will be able to share documents and be notified of any changes. Once your team is all joined, assigning them to relevant projects is even easier. This is a great app for keeping your team informed and on task.
CREATE
Need eye-catching presentations or ads for your business or maybe you just need to make your business more attractive on your socials? Every business needs a certain look, colour and eye-catching presence, with so much competition out there you want your ideas and business to stand out. These apps will help you create all your artistic and informative needs for your business.
Canva
Need graphics or flyers for your business but struggle to be the creative type? Canva is the artistic saviour. Canva is a simplified graphic-design tool website. It uses a drag-and-drop format and provides access to photographs, vector images, graphics, and fonts. It is used by non-designers as well as professionals. The tools can be used for all types of projects both web and print media design and graphics.
Pitchdeck
An alternative to PowerPoint Presentation and Prezi, Pitchdeck gives you easy to use templates to set up a knockout pitch presentation. Especially good for entrepreneurs and small business owners looking for investors. It allows you to simply display information in an eye-catching and professional manner.
Typeform
Typeform is a Barcelona-based online software that specialises in online form building and online surveys. It allows you to create dynamic forms based on your business needs. Create interactive experiences for your audience and get more responses. Typeform is more interactive and engaging than any other platform and the best thing is, is that there is no coding required.
OTHER FAVOURITES
Here are a few others we like to include to keep our days running smoothly.
DIIB
DIIB turns all that analytic data into readable, understandable and valuable information for any business owner. In simple terms, it shows you the value of your website.
Spotify
If you don't know what Spotify is you're missing out, with around 170 million monthly users the numbers speak for its self. Spotify is an online audio streaming service. You can stream millions of songs and podcasts for free or upgrade to paid services and listen to the songs and podcasts you love all over the world. Handy for business and entrepreneur podcasts if you love to listen and learn. Although not a business necessity it is defiantly a self-care necessity and a handy way to relax.
Audible
From best-selling audiobooks to exclusive podcasts, Audible is the app that allows you to listen and be entertained. Audible is a great way to listen to books or podcasts anywhere anytime, for busy business people this is ideal. Have everything stored in one app and you can even multitask while you listen. Another great way to relax or learn the easy way.
Pocket
Pocket is a great way to store articles, videos and stories from any publication, page or app. Don't have time to watch or read it but want to later? Easy pop it in your pocket to look at when you have time. Easy to use and super handy for busy people, the best thing is you can share your stored articles or videos with users and non-users. There is also a Pocket Premium for only $5 a month.