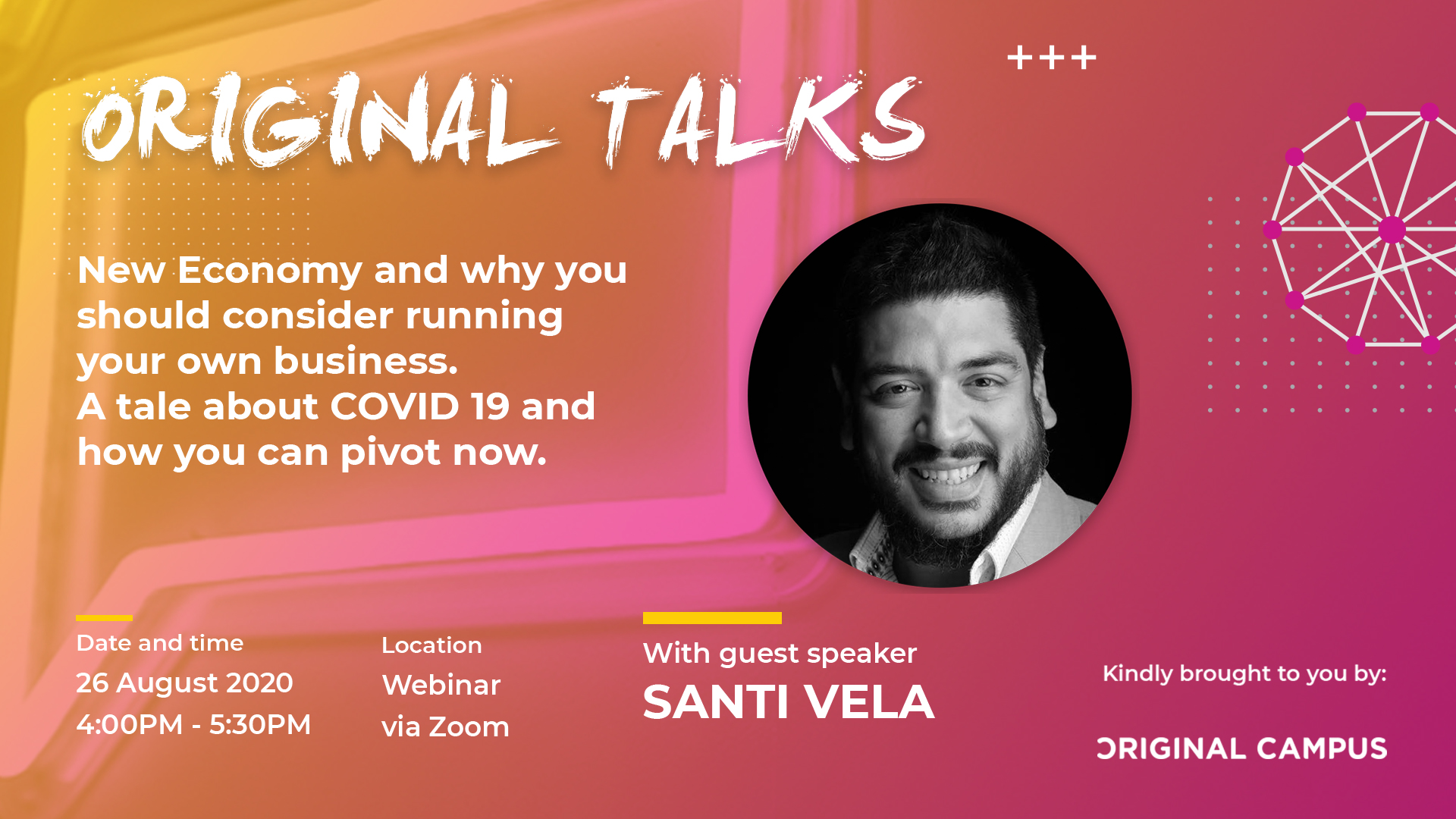 New Economy and why you should consider running your own business. A tale about COVID 19 and how you can pivot now.
17 August 2020 by laure rodrigues
About this talk
Original Campus is becoming Melbourne's most vibrant business school, attracting both aspiring as well as experienced entrepreneurs and leaders.
For International Students living or studying in Victoria: This Original Talk will offer people with imagination and initiative, the opportunity to bring their ideas to market and build businesses that can go global.
He will:
motivate you to embrace your desire to 'do business' instead of just owning a certificate,
challenge the OC community to develop their business ideas while completing their business courses.
Santi believes we're living through the most significant intellectual moment in history. With the COVID 19 crisis, there is going to be more confusion in the business world this decade than there has been in any decade, maybe, in history; and this represents a huge opportunity to establish a new business that can take advantage of the new economy post-COVID 19.
Other points we will discuss:
Santi's role and growth journey so far
What is digital transformation
The importance and relevance of Marketing automation to startup a business in Australia.
How new companies can produce valuable content and stay fresh in their customers' mind
Why personal branding is critical for business objectives
The PLC (product life cycle) and why you need to know how to use it.
The value of branding and advice for new entrepreneurs.
"If you have lost your job, please don't look to replace that job. Start your own digital business now." – Santi Vela
About the speaker
Before becoming an Original Campus coach, Santi has run the Digital transformation of PACCAR Australia for six years. He has also worked with executives in the USA, China, Singapore and Australia to envision and build what's next by strategically balancing People, Processes and Technologies.
He combines strategy, sentiment analysis, data science and creative design with deep industry expertise to develop the digital solutions and business models of the future.
Driven by the conviction that the business value of technology comes from and through people, Santi is recognised by his peers and the industry; he is at the forefront of teaching and business innovation.
Building on a strong 20-year heritage, Santi enables organisations and empowers international students to realise their business ambitions through an array of insights from strategy to operations.
For further information on anything, we've touched on today, head to his personal website or reach out to him via his business page. Santi is happy to chat about anything related to leadership, entrepreneurship, marketing automation and digital transformation, so don't hesitate to connect!
Recommended books and authors
Students can access the following books to warm up for the Original Talk:
The Rise and Fall of Strategic Planning, by Henry Mintzberg
Serious Play by Michael Schrage.
Funky Business By Kjell Nordstrom and Jonas Ridderstrale.
The Innovator Dilemma Clayton Christensen
Re-Imagine by Tom Peters
The Rise of the Virtual State. Richard Rosecrance